Deputy Editor
Salary: £30-35K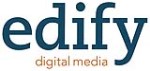 Deputy Editor – Vacancy for international B2B media brand.
Fast growing indie B2B publisher, Edify Digital Media based in London, is looking for a Deputy Editor for one of its B2B multi-platform media titles.
Edify Digital Media Ltd was founded in 2013 and owns market leading business-to-business media titles in the materials and pharma B2B sectors. This includes printed magazines, Apps, websites, e-newsletters, live events, social and broadcast media such as podcasts and webinars.
The role will report directly to the Content Director. Core activities will include reporting on the global markets covering news, new developments and technologies, research, interviews (including in written and audio format) and market trends. Developing and commissioning content programmes and moderating events including webinars & podcasts.
About you
Ability to produce engaging and informative content with good grammar and punctuation skills in written English.
You will be commissioning, researching, writing, editing and proofreading news stories and feature articles. You should have a strong eye for detail and be keen to learn about / understand international business supply chains.
A desire to produce original content in print and online - you should be confident speaking to all levels of people from shop floor to boardroom and happy to produce written and spoken content from webinars to podcasts to live interviews.
Flexible and organised – you will also be required to produce, proof and post online content as well as liaise with clients on sponsored content. Assisting the production departments in getting the magazine to print as well as providing input on product development and marketing activities.
Possess a good understanding of social media and its role in trade media as well as organising and uploading content to the weekly e-newsletters.
Willingness to understand the commercial aspects of the title and develop this to help identify commercial opportunities.
Happy dealing with and grasping the basis of technical content.
Professional and disciplined to meet deadlines.
Willing to travel (including internationally when required) and be comfortable working in an international business environment.
Self-motivated – you should be happy working alone or in a team.
A good team player.
A second language is advantageous.
This is a Mon-Fri, 9am-5.30pm position.
Salary range £30-35K.
Company pension.
Remote working.
28 days holiday (including bank holidays). Increasing to 33 days after 2 years service.
Career progression opportunities.