Evessio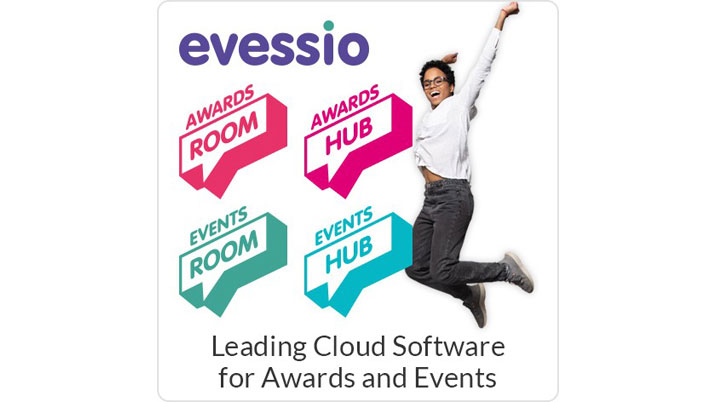 Providing exclusive software for the events industry
Evessio, the leading event technology specialist, empowers event professionals to deliver live and virtual exhibitions, conferences and awards ceremonies from start to finish.
Loved by event and awards organisers around the world, Evessio's four platforms – Awards Room, Awards Hub, Events Room and Events Hub – are tailored to meet the needs of today's events teams. From launch through to the live event experience, the platforms offer organisers the opportunity to adapt and flex their event offerings to suit their business and community needs.
Putting event managers in the driving seat
Regardless of the size of team, the Evessio user experience is designed to enable event and marketing professionals to deliver the outstanding event expected by clients and attendees.
Evessio's platforms allow events teams to scale down their event tech stack to a single supplier, improving both the customer experience, as well as that of the events professional and the workflow of the internal team. Its platforms streamline everyday event processes such as registration, live streaming, speaker submissions and e-commerce, reducing time spent on administration and instead allowing more time to develop the event brand.
"Evessio has given our marketing teams the tools they need to launch new events and empowered them to focus their time on delivering exceptional experience for our audiences." Marketing Director, Incisive Media
Technology that powers revenue opportunities
Organisers are constantly looking for opportunities to provide greater returns on investment of time and money for hosts, sponsors and attendees.
Designed with revenue opportunities in mind, the virtual venue platforms Awards Hub and Events Hub offer a wealth of commercial and networking opportunities to satisfy event sponsors and help build a global and viable extension to the organiser's live event brand.
The value of data can never be underestimated and the ability to track user activity throughout the event campaign can generate far greater insights, potential sales leads and valuable information not only for sponsors, but also for organisers looking to deliver exceptional event experiences year-on-year.
Take your events to the next level. Book a demo with a member of our team today: www.evessio.com