Prepare to Publish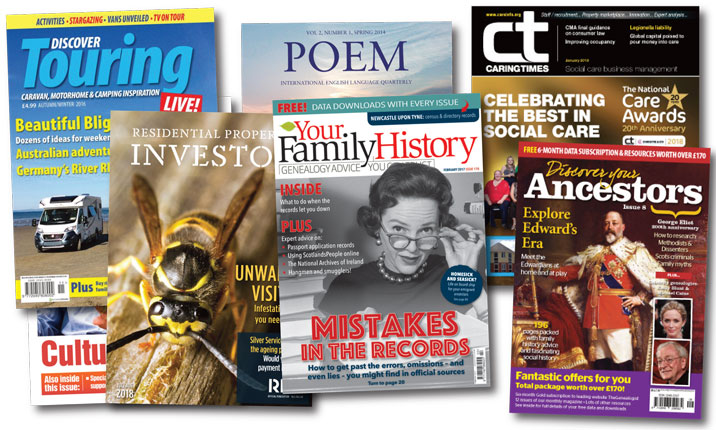 "I really can't thank you enough for your hard work and professionalism in consistently delivering every issue at the highest quality and generally making a great magazine. I will most definitely recommend your services." - John Garewal, Managing Director, Dennis Publishing
Hybrid publishing services provider Prepare to Publish brings together a unique mix of journalistic and editorial skills with a wealth of design flair and experience.
Our director Andrew Chapman has lived and breathed magazines for 25 years. He cut his teeth at Future, where he started as a staff writer on a computer magazine, becoming editor after only six months and learning QuarkXPress on the job. In his freelance career that followed, he was a sub-editor for, among others, The Independent, Centaur Media and Trinity Mirror, and did page layout for Reed Business Information, Quarto and Haymarket. Alongside a wide variety of client work, he has been editor of Discover Your Ancestors magazine since 2011. To this day his wife is perpetually frustrated by the piles of magazines he buys and leaves lying around the house (except for the digital ones).
Since 2011, Andrew has run Prepare to Publish Ltd as a network of similarly experienced freelancers, able to keep overheads down but build reliable teams quickly according to each job's requirements. Dennis Publishing chose us to run their magazine Your Family History from 2015 until the company's sale in 2018: we commissioned, designed, edited and sent to press the entire editorial content for more than 30 issues. Our 2018 redesign of the Residential Landlords Association magazine helped it to win one of the Association Excellence Awards. We've worked on a group of magazines in the long-term care sector for 20 years now.
We have worked on consumer, B2B and membership magazines, large and small, so are familiar with the full gamut of modern periodical publishing, including the need for digital formats. We use InDesign, of course - but yes, we still keep up with Quark too, as we know plenty of people still use it.
There's nothing in the magazine production process that we haven't dealt with at one time or another - content planning and creation, sub-editing and copy fitting, page layout, flatplanning, advertising design, copy chasing and preparation for press or digital distribution - with an absolute understanding that a deadline is a deadline.
We love magazines - do get in touch, and we'll love yours too.