Adnami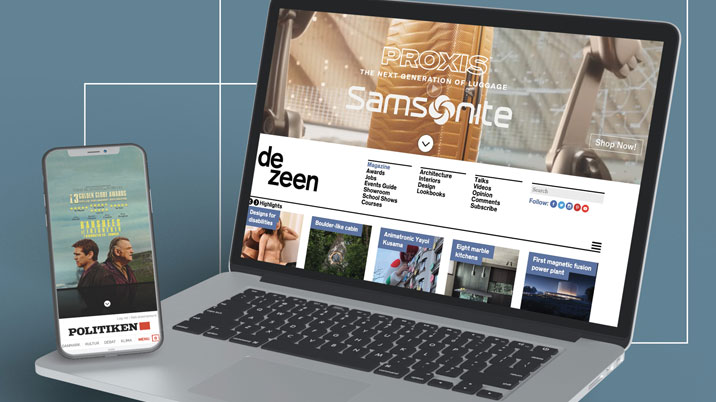 The idea for Adnami arose in Copenhagen in 2017, when media house Concept, together with an affiliated tech developer to the company, saw the opportunity to streamline and standardise the purchase and delivery of high impact advertising. A process that's usually quite complex and time-consuming. From the beginning, ambitions were set high: let's simplify high impact advertising globally.
High impact advertising solutions
Our high impact advertising solutions now create a global cross-publisher standard, facilitating for scale, operational efficiency and incremental revenues for all certified publishers.
We're technology agnostic and determined to make our solutions work seamlessly across all platforms. Our powerful creative solutions help advertisers trade and deliver high attention brand defining campaigns at scale.
At Adnami, we've developed, improved and certified the most popular and best performing rich media formats. Our templated solutions support dynamic creatives and responsive designs that deliver.
Our portfolio of premium high impact formats enable higher CPMs for publishers whilst delivering great performance for their advertisers.
We help publishers, advertisers and agencies deliver attention grabbing high impact campaigns at scale.
Fully transparent - fully programmatic
Our commercial model increases media value for all sides as we're facilitating the direct trade between agencies and publishers. Preferred CPMs can be negotiated directly by the agency with the publisher as they're receiving more of the overall media budget than via a network, and the agency or brand gets a better return on investment as they see an increase in impressions. Furthermore, publishers have a higher yield on their standard placements, since high impact are sold at a premium price.
At Adnami, we're striving to be a positive force in helping publishers reclaim control and transparency from 3rd party networks and big tech companies.
High impact advertising done right!
Since 2017, Adnami has opened six offices across Europe including the headquarters in Denmark, the UK, Germany, France, Sweden and Finland. We're growing rapidly with 50+ employees and have run 60,000 campaigns for 1,000+ advertisers, and have 4,000+ Adnami certified publishers, reaching 400M+ unique users monthly.
What our customers have to say:
"Adnami enable us to delivering high impact advertising programmatically that generates us as an agency great operational efficiencies." Mette Schnor Bailey, Digital Director, Publicis
"Adnami enables us at Danske Spil to run high impact formats, such as wallpapers and midscrolls, at a scale that hasn't been possible before." Peter Møller, Head of Digital Marketing, Danish Lotteries