Boostr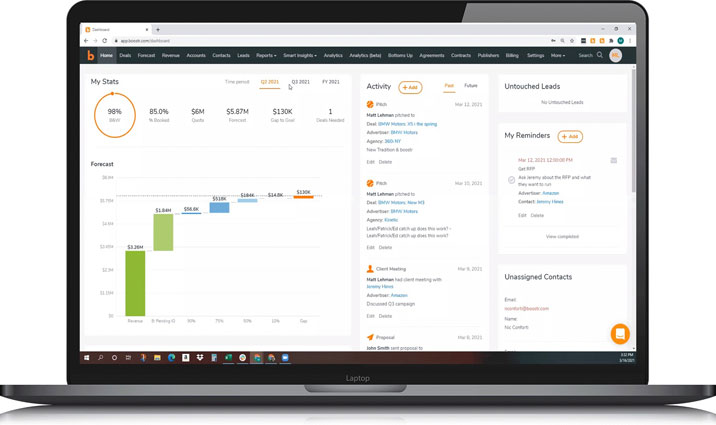 Boostr is today's fastest growing CRM and order management solution for publishers. The platform is specifically designed to manage advertising revenue and to help media businesses get total control over their omnichannel ad-sales and inventory monetisation.
Boostr's media-specific CRM and OMS platform is the ultimate solution for publishers in today's modern media industry. In one seamless system, we help Sales to optimise forecasts and drive omnichannel revenue, relieve AdOps of tedious manual and error-prone tasks by automating ad trafficking, and provide Management with intelligent and prescriptive reporting & analytics to increase revenue performance.
A Media Specific CRM
Accurate pipeline & forecasts that incorporate all revenue streams (eg. print, digital direct, programmatic, etc)
Flawless mapping of brands to agencies / agencies to brands
Best-in-market email & calendar integrations that seamlessly track seller activity
Intuitive design with easy-to-read quota tracking + automatic commissions calculations = highest seller adoption in industry!
A Digital First OMS
Media plans & proposal creation, multi-rate card capable, and tracking of profitability by product and / or package
Simple omnichannel order entry and traffic automation (PG, PD, PA and PMP)
Quick overview and possibility to adjust daily delivery ingestion, delivery & pacing
Error-free and fast automated billing & reconciliation
Already more than 130 important media companies are using Boostr to improve and manage their ad-revenue; these include Buzzfeed, Sony Music, Lonely Planet, EA Sports and Vice Media.
Focus on advertising revenue and inventory monetisation
Boostr CRM, OMS and Commissioning solutions are designed exclusively for the media industry.
Benefits for Publishers: Increase revenue and higher profits, improve performance and customer satisfaction, keep full control and a finger on the pulse thanks to tracking live results at any time.

Increased forecast accuracy, better pipeline visibility, highest adoption by sellers of any CRM!

Benefits for Sales teams: Optimise admin and seller time, exceed sales quotas, drive omnichannel sales and push multimedia packages, increase and manage commissions, scale upsell opportunities.

Boostr is truly the only CRM that sellers actually love to use because they can create new deals directly from email and track activity without ever having to log into the actual platform

Benefits for AdOps teams: Break bottlenecks, manage margins, remove manual tasks and take full benefit of today's digital opportunities, simplify omnichannel order entry and traffic automation (PG, PD, PA and PMP).

Closed & pending deals flow directly downstream to the OMS within the same platform used by sellers upstream. Inventory avails are clear and accurate and the push to / optimisation within live campaigns in the AdServer(s) is fast and easy