Celloglas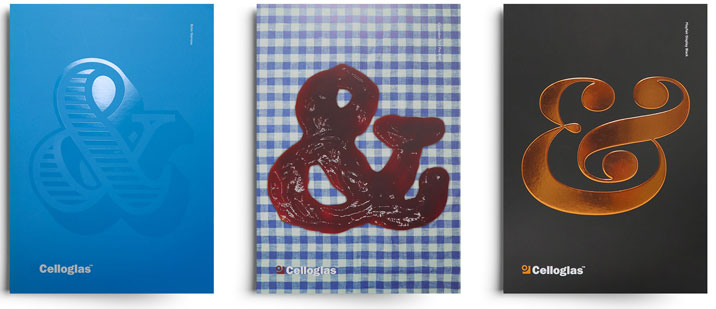 Celloglas is an established supplier of decorative print finishes to the magazine publishing sector and offers an extensive range of creative solutions. Setting specialist high-end titles apart with elegant effects, adding interactive innovations and making large run seasonal editions extra festive are just some of what Celloglas offers.
Celloglas works with print suppliers and consults directly with publishers, suggesting finishing options and often producing cover mock-ups before the full run. Publishers can choose from an ever-increasing array of creative finishes and finish combinations, such as foil blocking, screen varnishes, fragrances and glow in the dark ink. The range also includes glitter varnish, high-speed coatings including a velvet feel or a rough matt, lamination and metallic papers from Celloglas' sister brand Mirri.
Decorative finishes can be used to communicate increased value or innovation, to increase reader interaction or create a spectacle that is talked about across social media networks. They also enhance sensory experience and can be used to produce a collectable special edition.
Celloglas has production sites at Reading, Leicester and Leeds. The company finishes many types of publications including consumer monthly titles, newspaper weekend magazines, retailer titles, B2B magazines and free titles.
Magazine and book publishers can use decorative print finishes to achieve stand-out on the news-stand or shelf and encourage further engagement with their brand. Whether it is to make a magazine glossy or add wow factor to a book cover by applying a foil masthead or a glitter finish, we've got the technology to add more depth to the reader experience.
Celloglas presents to publishers on a regular basis, keeping them informed of available effects and demonstrating design concepts and the latest innovations.
Celloglas is a regular contributor of decorative print finishes to the cover of Computer Arts magazine. This always becomes a spectacle of finish combinations and often drives innovative ideas across the publishing sector.
"I've used Celloglas for decorative finishing before with great results and they are well established in the magazine publishing industry." Laura McClennon, Magazine Publishing Manager, News UK
"The level of precision and detail that Celloglas have been able to create using the foils is fantastic. The raised effect from using the fluted foil really lends to the idea of '3D'." Ian Dean, Editor, 3D World
"The Kia 'Scratch the Clichés' back cover ad has been a really positive project for us. Celloglas produced a proof with all the finishes, so we could be confident in the method and result before the production run even started." Stav Athanasiou, Head of Operations, The Telegraph