Inskin Media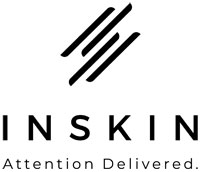 Inskin Media is an advertising technology business, which develops high-impact, non-intrusive brand advertising formats that run on premium publishers' sites. Inskin delivers attention driving formats which enable advertising to be unmissable, unforgettable and consistently deliver maximum impact.
Driving powerful, impactful brand advertising that commands attention on any device, Inskin delivers high impact digital advertising for more than 1000 leading brands, working with 260 publishers across 2000 premium websites globally.
Unbeatable visual engagement
On average, Inskin formats deliver exponentially higher attention compared to standard digital display ads.
Creativity x design
Inskin's high impact formats coupled with our experienced design capabilities enable striking, unmissable advertising.
Quality views to boost brand lift
Premium publisher environments are proven to deliver better brand outcomes. Inskin's network includes hundreds of leading publishers worldwide which you can join today.
What Our Clients Say About Us
"Working with Inskin has enabled us to build our business around a reliable and consistent partnership. Many operators have been slow to make the move to mobile but Inskin very effectively navigated this challenge. In a world where performance is key, the have always made working towards the strongest results as easy as possible, resulting in their high impact formats continuing to drive great results for advertisers and publishers alike." James Carter, CEO at Digital Box
"Inskin has been an integral partner across our B2B and B2C clients here at Digitas. The creative formats that they have available allow us to cater for multiple KPI's across the funnel whilst delivering impactful media. Building on top of this is the added value brought by their team who help with creative production, trading and branding studies. It is now more important than ever to have media work smarter and really 'cut-through' the clutter, and by partnering with Inskin we have consistently been successful in driving excellent results for our clients." Emma Jensen, Director of Programmatic at Digitas