Mail Options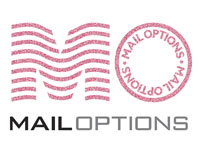 As one of the UK's leading, totally independent, global mailing organisations, Mail Options provides a range of comprehensive fulfilment, mailing / courier and e-commerce solutions to a highly respected publishing, marketing, professional and scientific client base.
Since incorporation in early 1997, the company has made great strides - in collaboration with many of the most effective global service providers - in the development of a remarkable range of innovative, flexible and cost effective mailing and distribution services, presented on a platform of integrity, helpful efficiency and attention to detail.
Furthermore, by incorporating our complete range of services under the one roof and providing each client with a clearly defined point of contact, Mail Options undertakes that clients' mail and distribution requirements are managed and handled sensitively, responsibly and in such a way as to arrive on time, to specification and within budget each and every time.
We at Mail Options believe in the importance – to any prospective client – of being aware of our Quality Objectives:
To deliver our services on time and to specification, each and every time
To provide appropriate services, via selected routings, using responsible suppliers
To deliver our services at the keenest rate available for the service required, appropriate to customer specifications
To fulfil, process and despatch clients' materials with integrity in accordance with instructions
To provide maximum flexibility of choice, to clients' advantage
To encourage service development and growth
To analyse customer feedback, internal performance and external data to ensure that our integrity and Quality Objectives are being met
To conduct our business in an ethical and professional manner
To notify clients of any problems or issues and to rectify as quickly as possible
… which, when applied to our complete range of services and underpinned by ISO 9001 accreditation, provides clients with the peace of mind of knowing that their business is being entrusted into the best possible hands.
We therefore invite you to contact us to find out more for yourself and we will be delighted to discuss opportunities with you.
Our services at a glance:
Data-processing
Mail-merge & document personalisation
Printing processes & applications
Envelope enclosing & addressing
Transactional printing & inserting
Polywrapping & addressing
Global & domestic post & courier distribution
E-commerce applications
Air, surface & ocean freight
European groupage & distribution
Warehousing & pick-&-pack