NLA media access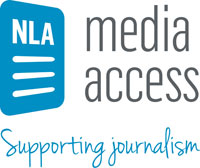 Turning copyright into revenue
Writing, editing, publishing, printing and web hosting all have a cost and when a business copies your content, they need to pay for the privilege. Quality journalism has a value, and one of the ways to make the most of that value is through copyright licensing. UK publishers like you invest a total of over £1bn every year. It's only fair that you receive the royalty payments that are rightfully yours.
Copyright and the law
If someone copies your content without permission, they're breaking copyright law. To make copying legal, they can either get permission from you directly, or secure blanket permission with an annual copyright licence.
We're fighting your corner
NLA media access (NLA) is a highly respected, publisher-owned copyright licensing organisation. Established in 1996 by a consortium of seven national newspaper companies, we are regulated by the Intellectual Property Office and operate under UK law.
We currently represent over 7,000 national, regional and foreign newspapers, 1,500 magazines and 4,000 newspaper and magazine websites. The interests of the publishing industry are at the heart of everything we do. After running costs, we distribute all of the revenue we collect back to publishers. In the last year alone, we distributed over £40m to publishers. That's enough to keep over 1,000 journalists in a job.
Beyond copyright licensing
NLA also provides publishers with other services to save money or create new income streams:
Database Services: a news portal that also acts as a shop window to secure worldwide syndication partnerships.
Copyright Protection: protects news content online; in 2020, this will also extend to logo tracking and brand protection.
Agent for Publishers: manages text aggregator agreements and includes content supply, reporting, and royalty collection.
Bespoke Technical Solutions: supports publishers in monetising content through third party platforms.
Don't miss out
You've worked hard to create quality content and build your publishing brand. Presses have to run, websites have to be maintained and journalists have to be paid. Having NLA on your side could make all the difference.
To get the most out of your published content, contact our Publisher Services team – publisherservices@nla.co.uk – we'll make sure you get the royalties you deserve.