Passendo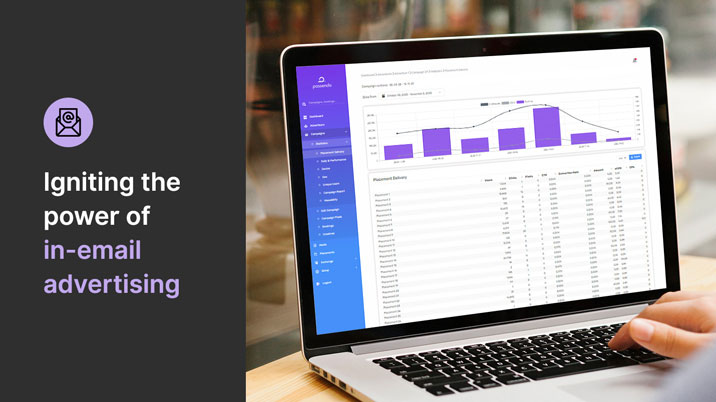 Passendo is the leading European platform commercialising newsletter inventory. Founded in 2016 by two digital advertising pioneers, our award-winning Email Ad Server and Exchange helps publishers from across the world ignite the power of in-email advertising. Partnering with over 4,000 premium newsletters from some of the world's largest media owners, we help publishers activate incremental revenue from this existing and untapped channel.
Newsletters are a growth area for most publishers. They help build habit and loyalty as well as provide a means for publishers to communicate directly with their consumers outside of social media. However, legacy email and advertising technology has not allowed publishers to commercialise this channel properly. Passendo changes this by giving publishers the tools to capitalise fully on their growing and valuable newsletter portfolio.
Ad Server for Email Newsletters
Passendo's real-time Email Ad Server gives publishers the functionality to sell their newsletter inventory like they sell their web inventory. This means publishers can better monetise this channel by providing their commercial partners with more valuable and responsive packages. Our platform can also reduce manual work by up to 80 per cent, meaning publishers can improve and optimise both their revenues and workflows.
Our Ad Server product features include:
A powerful native ad builder
Comprehensive reporting
CPM, CPC and sponsorship sales models
Prioritisation waterfall
Frequency capping
1st party data targeting
Passendo Advertising Exchange
In addition, Passendo's Advertising Exchange helps publishers monetise any unsold newsletter inventory to ensure every impression is generating revenue or provide competition for direct-sold campaigns to maximise yield. Naturally, Publishers have full transparency and control over all 3rd party demand through category filters, domain and keyword blocklists or whitelists.
Passendo Platform
Built in the EU, Passendo's technology is fully GDPR compliant. We do not reuse or repurpose publisher data for any other reason. Our simple one-time integration is compatible with all Email Service Providers, so publishers can be up and running quickly with minimal involvement from tech teams.
Benefits
Using Passendo, publishers can fully optimise commercial value from their newsletters:
Take back control
Streamline workflows
Maximise revenue
"Passendo made it possible for us to monetise our newsletters as a new revenue source and we're able to sell, deliver and report our direct-sold campaigns much more efficiently, with more control and in an effective manner." Markus Ekberg, Chief Revenue Officer – 3rd Party & Programmatic, IDG SE