BlueToad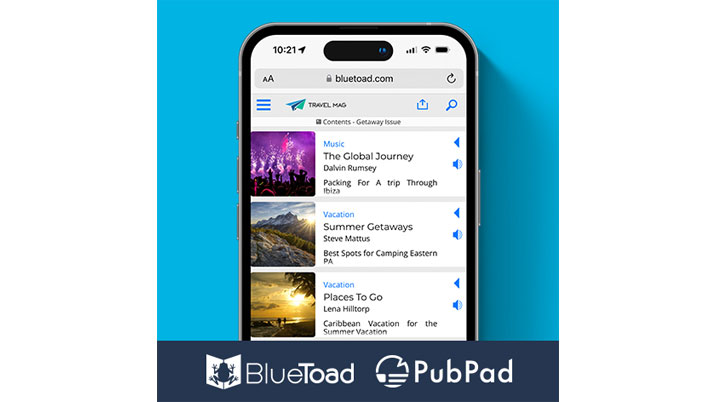 We know you don't have time for the typical blah, blah, blah business pitch, so let's cut to the chase with some quick information on what we do, who we are, what it costs, and why you should choose BlueToad as the content experience platform for your digital content.
What We Do
We help you create engaging content hubs from collections of your important content, including your static PDFs. Speaking of PDFs, don't just settle for a regular "page flipping" digital edition of your magazine, journal, or periodical. BlueToad can help transform your PDF-based digital edition into an engaging, branded content hub with not only a dynamic page view but also responsive mobile-friendly articles, listening experiences, additional content channels, custom menu destinations, topical editions, and informative analytics.
Don't have a PDF? Then just create a PubPad content hub - great for editorial content, marketing information, newsletter content, or general resources. Building and maintaining your PubPad content hub site is both easy and affordable. No technical knowledge or skill is required, meaning you can focus on your content.
Who We Are
Based in the United States but with an office in London, we've been helping professional publishers for over 15 years with their digital content distribution strategies. We've powered thousands of digital publications around the globe, worked with some of the largest brands in the industry, and partnered with many of the top commercial magazine and journal printers. Our team has the knowledge and expertise to help you create your digital content with the latest technologies and best practices in mind.
What It Costs
Typically anywhere from £3-£8 per page depending on service level (self or assisted) and commitment (a la carte or contract). If you just want a content hub, then 99 pounds per month.
Why BlueToad?
We care about our customers, are dedicated to the continual evolution of our platform, and will always remain focused on promoting the clean and efficient distribution of digital content.
Contact BlueToad today to learn how we can help you with your digital content strategy. Just mention "InPublishing" for special pricing.