Bourne Media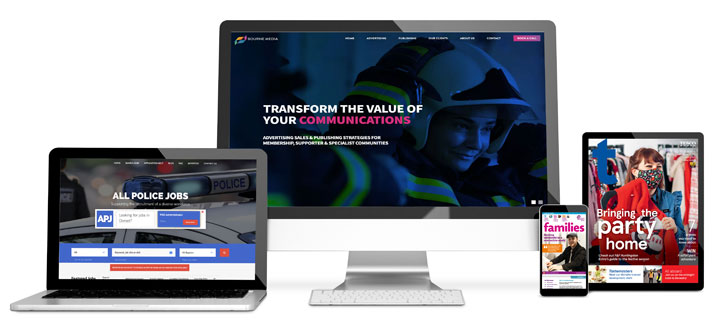 Trust us for brand-aligned advertising sales and publishing services that boost your revenue and your reader experience.
We support organisations like yours to build publishing and advertising strategies that deliver top quality content for your readers, whilst generating consistent ad sales growth for your organisation.
Is your organisation missing out on advertising revenues?
Download our free Top 5 Advertising Trends Report to find out now.
With 20 years' specialist experience behind us, we know what it takes to build and deliver an advertising sales or full publishing approach that delivers maximum returns.
We do it by creating brand aligned publishing and advertising sales strategies that consistently hit all the right notes:
For your community: a brand-aligned reader experience
For advertisers: hand-picked placements for lasting returns
For you: quality advertiser relationships; consistent revenues and an engaged reader community
If you're ready to explore ways of maximising your advertising revenues and readership experience through brand-aligned publishing and advertising solutions, contact us today to book a free audit with our founder, Mark Toland.
We'll identify exactly where the biggest advertising and publishing opportunities lie for you right now, and recommend the practical next steps for you to take to start growing your revenues straight away.
Book your Free Audit with Mark
About Us
With 20 years of advertising sales and closed-community publishing experience, we've got the ultimate contact book in your sector. Trust us to pull in the right advertisers for your publications, or the right publishing team to manage your whole publishing project – at the drop of a hat.
We make it easy for you to make money from your publications.
The secret to our consistently great revenue results is simple: we never stop listening. That means we will build your advertising sales strategy and keep evolving it, to perfectly fit your changing goals, your situation and your stakeholders.
Our Services
Advertising Sales
Our made-to-measure ad sales service focuses directly on the five ingredients that consistently ensure advertising sales success for organisations in your sector:
Open dialogue
Sector insight
Quality control
Omnichannel approach
Strategic support
By keeping our focus firmly on what matters, we ensure that you consistently obtain the best possible advertising sales revenues – whilst also creating the best possible community experience.
Community Publishing
Our boutique publishing services deliver high-value, omnichannel content to membership and supporter communities: keeping your community loyal, engaged and active. Thanks to our Five Point Publishing Promise, you can trust us to commission, create, edit and produce your content – and pair it with high-value advertising that engages your readers and offsets your publishing costs.
Resource on tap
Sector specialists
Revenue focused
Content driven
Omnipresent approach
Our Clients
We support leading organisations in your sector including to maximise their revenues by building strong relationships with quality, brand-aligned advertisers. Our client list includes: the National Animal Welfare Trust, Parentkind (Parent Teacher Association), The National Deaf Children's Society, The National Association of Retired Firefighters, The Landscaper and Tesco's colleague magazine.