Brand Metrics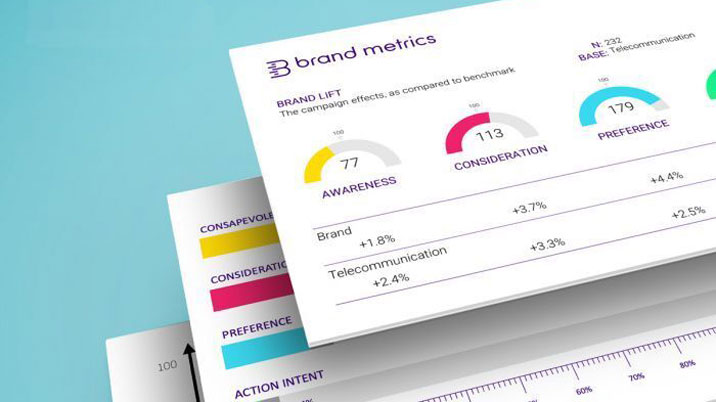 Brand Metrics provides the only platform to measure brand uplift for digital ad campaigns, including display, branded content and video, even campaigns as small as 50,000 impressions, to ensure publishers have tangible proof of their value for even smaller clients. Simple and powerful, their survey-based SaaS technology calculates brand lift across four key metrics: awareness, consideration, brand preference and action intent and compares these scores against Brand Metrics' global benchmarks, allowing full comparability from campaign to campaign. Their SaaS technology is used by over 40 global publishers including Bloomberg, MediaFin, JPIMedia, The Ozone Project, Financial Times and Burda Forward, providing them with tangible proof of their site's value.
Using Brand Metrics – Four Reasons Why:
Drives Sales
Our studies show that publishers that bring our brand lift data to conversations on average increase advertiser order values by 16% and repeat buys increase 23%. More frequent usage actually increases those percentages, as advertisers want to know about effects and our data helps sales teams make better recommendations.
Superior Methodology
Brand Metrics retargets a sample of the campaign audience with a simple survey question in the actual digital environment. No panels needed. The data feeds into Brand Metrics algorithms and calculates brand lift automatically. The sampling and brand lift calculation algorithms are scientifically developed, purpose-built for publishers and designed for scale.
Global Benchmarks
Brand Metrics' unique benchmark database holds thousands of campaign reports, all following a consistent methodology, derived from working with publishers all over the world. Each brand lift measurement is automatically compared to similar advertiser industry sectors, ad formats and more, unlocking a deeper level of insight.
The beauty of SaaS
Brand Metrics is sold under license, meaning there is no 'cost per measurement', making it affordable and scalable. It is easy to implement, GPDR- compliant, does not rely on 3rd-party cookies, has integrations with major ad stacks, consent- and programmatic frameworks and it is constantly evolving in line with customer demand.
We are proudly working with many of the world's leading publishers including The Guardian, Bloomberg, MediaFin, JPIMedia, The Ozone Project, Financial Times, The Washington Post, and many more.