FotoWare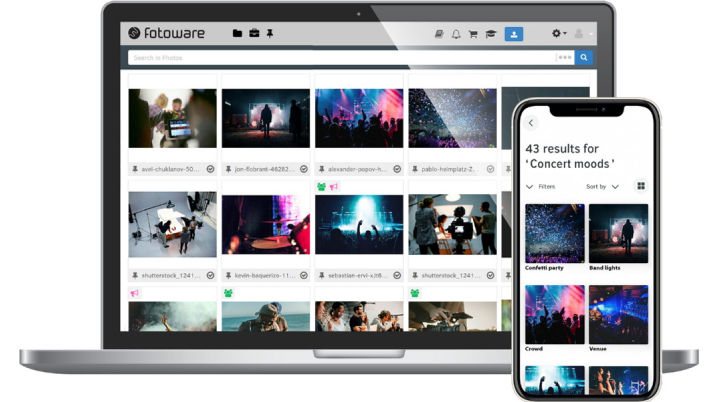 FotoWare is a Norwegian software company which, in the space of more than 20 years, has become a world-leading provider of Digital Asset Management (DAM) solutions. Founded in 1997 by Ole Christian Frenning (former press photographer 1974-1985 and photo editor of Aftenposten 1985-1991) and Anders Bergman (former leader of development at Hasselblad Electronic Imaging 1985-1994), FotoWare was one of the first in the world to offer a DAM system.
FotoWare's roots lie in media and publishing, and we are proud to provide companies with some of the most advanced metadata and workflow capabilities in the industry. Our solution powers the image workflows of more than 400 organizations like Thomson Reuters, the Financial Times, and The Economist, enabling them to seamlessly manage high volumes of files, stay in control of rights management, and accelerate their content distribution.
About the FotoWare DAM solution
Our open API allows you to integrate FotoWare with your other important systems, as well as our ready-to-use plugins for users to access images within their favourite tools like Microsoft Office, Adobe CC, Wordpress, Optimizely/Episerver, and more:
Find and use the right files by organizing your content with metadata, ensure consistency through metadata governance, and use taxonomies to find and filter your assets.
Ensure consistent publishing by automating file formats and color space conversion, ICC profile tagging, image resizing, output dpi setting, and more to efficiently prepare images for distribution.
Archiving and auditing is made easy – you can stay in control of thousands of files and oversee all your system events, easily monitor logs and usage data, and create royalty reports.
Increase the efficiency of your content distribution – users can easily upload photos from anywhere and distribute them to the right stakeholders using any device.
Collaborate on visual content in one central hub – add annotations or notes to images, and share larges batches of files with external users in seconds!
Stay on top of image rights and licenses and set up workflows to automatically redact content when the licenses expire.
Scale to your needs – you can develop your content ecosystem as you grow, adding users, increasing storage, and even adding AI and Cognitive Services whenever you are ready!
Our solution can run in a way that suits you – SaaS, On-premise, or Hybrid.
FotoWare is trusted by more than 400 companies in publishing, media, and entertainment, including Axel Springer, Schibsted, Prisma Media, Sky, and many more.