Global Media Hub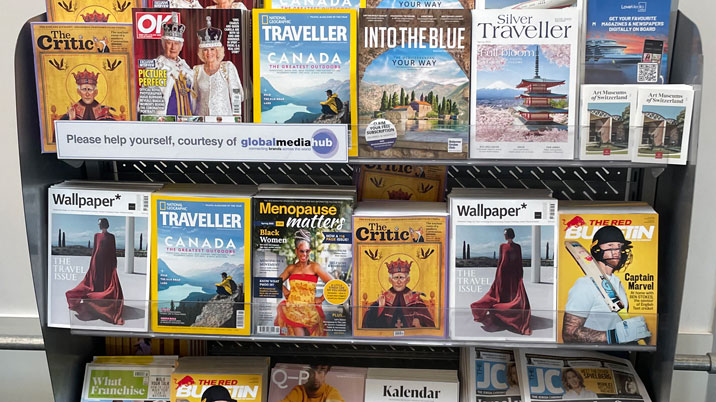 Global Media Hub is a highly experienced publisher services company specialising in audience engagement via global media placement and brand to hand campaigns.
We understand the importance of brand exposure and audience development. Our goal is to boost engagement by getting your product directly into the hands of your target audience. Our wealth of experience helps clients drive additional revenue and we can help to save you money through our extensive logistics network.
With over 60 years' experience in this specialised sector, our creative approach will provide you with a fresh, dynamic circulation, complete with valuable reporting and a level of service you will not find elsewhere. We have been ABC accredited for eight consecutive years, providing peace of mind that our distribution is fully audited and robust.
Our expertise includes:
Global Copy Placement: Bespoke placement into targeted venues including luxury hotels, private members clubs, spas, health clubs, airports, private jet centres, Eurostar*, cruise terminals, universities and supermarkets.
Corporate Offices & Luxury Apartments: Our fully-owned and merchandised racks in prominent businesses and luxury apartments, including JP Morgan and Morgan Stanley, offer access to AB1 audiences across Canary Wharf and The City.
Cruise: Our exclusive placement across all five of Southampton's cruise terminals places publications in front of over two million passengers annually.
Tailored Sampling: We create inspirational consumer engagement campaigns across a range of locations to optimise brand awareness and sales. Sponsored activity can also contribute significant ad revenue.
Global Events: Live events provide valuable and timely exposure to your target demographic. We can provide a presence at prestigious events such as Fashion Weeks, Art Basel, worldwide sporting events and many more.
Subscriptions & Data Collection: Driving subscriptions and collecting data via targeted distribution campaigns and partnerships.
Logistics: Our extensive logistics network can save you money, offering highly competitive rate for mailings, courier parcels, pick & pack, storage, bulk freight and print site collections.
E-commerce: Increasing sales and brand awareness by optimising print visibility to consumers both in and out of home. We can also fulfil orders using our competitive courier rates and can integrate our IT systems with client sites.
Digital: As well as providing a digital platform for venues we can also place publications into our digital network which includes global hotels and airline lounges.
Audiences at Home: Target consumers at home via residential door drops (both in the UK and internationally) and direct access to new home movers through our Home Move Box network.
Get in touch to optimise your circulation strategy.