iApps Technologies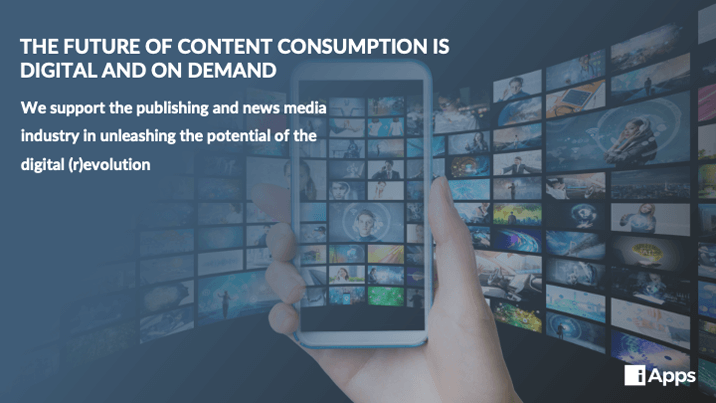 iApps Technologies GmbH is an innovation leader for digital publishing. With more than ten years of industry experience, we have established ourselves as a reliable partner. 7 of the 10 largest publishing groups in Germany rely on our software solutions. Our clients include the Frankfurter Allgemeine Zeitung, DIE ZEIT, Süddeutsche Zeitung, Handelsblatt, Tagesspiegel, Motorpresse Stuttgart, Madsack Group, the Rheinische Post Group and many more.
Our fully modular and highly scalable Publishing Suite meets the high expectations of the media and publishing industry. Effortlessly increase the streaming of your digital content. Produce state-of-the-art multimedia and premium content in a fully automated process. Whether e-paper, hybrid/native/html apps, desktops, or web readers: stream your content efficiently and analyse the results of your marketing activities. We help you drive the development of your digital strategy.
With our market-leading platforms, we bring digital content to millions of people – as e-paper, multimedia editions, hybrid, audio, native and web apps.
The p4p™ PUBLISH converts your print issues fully automatically into digital formats. Test your issues in preview mode, make changes if needed and inform your readers about new issues through push notifications. The platform recognises crossword puzzles and sudokus and converts them into fillable formats.
With the p4p™ RED, you create your digital premium content e.g. multimedia and premium editions, quickly, easily and efficiently. Our lean solution is more dynamic than bigger and more complex systems and therefore ideal when it comes to creating and publishing your premium content in no time. It covers all relevant editorial processes and reduces your work volume with the help of intelligent automation.
With p4p™ AUDIO, we offer a complete solution as a standalone player or as an add-on into your applications. High-quality listening pleasure can be created using language synthesis deep-learning technology. The choice is yours – more than 100 natural and human-sounding voices are at your disposal.
In combination with our p4p™ APPS framework, our modules for paid content and analytics, we offer our customers tailor-made solutions for their challenges.
Our SAAS-based publishing suite is highly scalable in both technological performance and product features. Regardless of how fast your user base grows, our platform will grow with you.
For more information about our technology and services, please visit our website or contact us on +49 30 26931980; or by email on sales@iapps-technologies.com.