Impact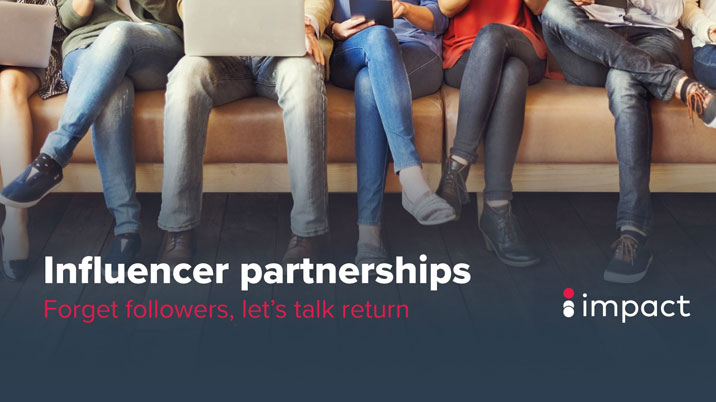 Impact is the global leader in Partnership Automation and catalyst for the new Partnership Economy. Impact accelerates enterprise growth by automating the full partnership life cycle, including discovery, recruitment, contracting, engagement, fraud protection, optimisation, and payment processing for enterprise partnerships. Impact's Partnership Cloud™ manages more than £50B in e-commerce sales and processes over £2B per year in payments to partners. Impact drives revenue growth for global enterprise brands such as AIRBNB, Adidas, Getty Images, Lenovo, Levi's, TUI, and Disney+. Founded in Santa Barbara, CA, in 2008, Impact has grown to more than 750 employees worldwide.
Impact Partnership Cloud
Automate every type of partnership and scale to all new levels with Impact Partnership Cloud. Partnership automation lets you expand your programme and scale every type of partnership; including affiliates, influencers, strategic business partners, mobile apps, publishers, and more.
Client Testimonials
"Moving to Impact Partnership Cloud has been a game-changer for us. We were able to custom model our whole influencer marketing structure like we have never been able to before. I have rarely seen a customer support and experience team this effective. They assist us with our daily tasks when needed and bring great recommendations for our programme." Morgane Kaminski, Social Commerce Performance Lead at Mapiful
"Enterprises and brands have traditionally focused on growth through sales and marketing optimisation. While historically successful, enterprises are increasing their focus on growth through partnerships to meet and exceed future growth goals. As partnerships become increasingly crucial to revenue growth, organizations must develop an operational strategy and leverage the correct channel tools and organizational best practices to ensure partnership success." Forrester Research
"With Impact and Scale Digital, we had partners who shared our goal of improving business performance and were able to build the strong, effective, successful partnership program we needed. Their tools, expertise, and support have directly affected our business profitability." Andy Boddy, Commercial Director at Eve Sleep