Media Carrier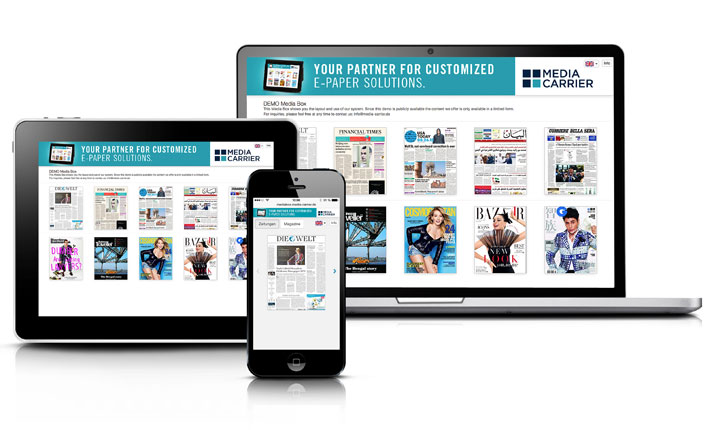 Media Carrier is the leading specialist provider of digital newspapers and magazines to the transport and hospitality sector around the world.
Serving this sector since 2011, we have the pleasure in working with over 20 airlines and 200,000 hotel bedrooms.
Already providing a valued placement service to over 1500 publications in more than 39 languages, we are keen to offer this great opportunity to more UK publishers.
Airline, hotel, train or cruise customers are able to access the library of digital editions via the Media Carrier platform called Media Box. Full usage data provided monthly.
Our digital service
International Digital Editions Placement: We are able to design a digital distribution plan in line with your publishing strategy to target the audience that meets your requirements in each territory and / or business segment.
International Audio and Video opportunities: Partner your great digital editions with powerful audio or video content to drive audience engagement even further.
Easy set up: Our technical team will set up the automated content transfer with you to ensure a reliable, low cost and hassle free digital distribution.
Publisher Reporting Suite: Each publisher has access to a reporting suite to provide real time information.
Bespoke Reader Offers: Use our platform to drive new digital and print subscribers by placing targeted offers with an automatic click through to your landing page.
Advertising: The Media Box platform has a number of advertising opportunities to enable you to carefully target the highly valued traveller audience.
Our print service
International Print Placement: Working with our sister company News-Log AG, one of the major players in print distribution to airports, airlines and catering companies throughout Europe, we can support a combined print and digital placement strategy.