Speciall Media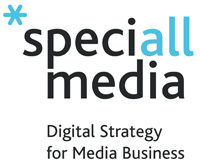 Speciall Media builds tailored digital strategies for media brands.
We draw on a decade of experience working with dozens of specialist consumer and B2B publishers to bring best practice and innovative ideas to your media business.
We will work with your team to structure customer research, analyse data, review competitors and develop new products and services.
We can facilitate strategic workshops, help you with product development and conduct acquisition searches.
We can work on defined projects or provide long term digital strategic advice as a "Virtual NED"
Clients include Archant, Bauer Media, Bonnier, Elsevier, Exec Grapevine, Guardian, IET, Mark Allen Group, NewsQuest Specialist Media, Practical Publishing, Puzzler Media, RCNi, Thomas Telford, Ultima Media and many independent publishers.
Carolyn frequently speaks and moderates at media conferences including Making Publishing Pay, Digital Media Strategies, Specialist Media Show, FIPP Congress, Digital Innovators Summit. And writes on digital media strategy for InPublishing.
Client comments
"Carolyn has provided a great sounding board for me as we transition our business from legacy B2B publisher to a multi-channel B2B data and intelligence-led content business She has been exceptionally generous with her knowledge, experience and connections and I value her advice immensely." Gavin Miller, MD Ultima Media
"Carolyn ran a recent strategic project for one of our commercial B2B media divisions. Carolyn diagnosed issues in existing products, encouraged the team to analyse customers in new ways, instigated a portfolio review and identified new opportunities. She built strong working relationships with the senior team and brought clarity to the strategy." Giles Grant, MD, The IET
"Carolyn is shrewd, thoughtful, resourceful, reliable and very productive: which is why she is the first person I turn to when I need another brain to work on a strategic project." Tim Brooks, Chair Public Digital (former MD The Guardian)
"I have known Carolyn for many years in her capacity as an event organiser, investor, and most recently facilitator as she managed with aplomb a day-long session at 1854 for the senior team, as part of a strategic overview. Highly recommend for advice, professionalism and contacts in the media industry at large." Marc Hartog, CEO, 1854 Media