HH&S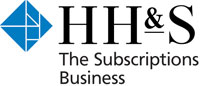 The innovative subscriptions services and marketing agency offering publishers a fresh approach to marketing and servicing their subscriptions.
HH&S has been in business for over 30 years, providing publishing clients with the subscriptions and marketing services they need. We work with some of the UK's biggest publishers, handling 400+ daily, weekly and monthly newspaper and magazine titles.
At HH&S, you will find everything you need all under one roof. We offer flexibility to publishers so whether you are looking for the full subscriptions management service or just need us to manage a one-off promotional campaign, we can fulfil your brief.
Our extensive list of services includes:
Bespoke subscription fulfilment platforms
Acquisition / retention / reactivation marketing
Customer care
Strategic consultancy
Campaign analysis
Loyalty platforms and promotions
We manage subscribers through bespoke subscription platforms where we offer an end-to-end service. Our platforms have been designed to answer the needs of publishers of any size. Each platform is bespoke and able to handle various fulfilment methods and payment options enabling publishers to offer their customers more flexibility.
Through our experience with newspaper subscriptions, we are specialists in using vouchers to drive subscription sales through the newsstand offering magazine publishers an alternative to the normal postal route to subscribers.
Our team have a breadth of experience having worked client side in marketing and circulation teams for both newspaper and magazine publishers. We are proud to say we treat our clients like partners, working together to drive circulation and subscription revenues. Whether your project is big or small, we are keen to work with you on achieving your goals.
"HH&S's proactive work with secondary marketing has had a positive effect on building our subscription levels." Richard Thompson, Managing Director, i Newspaper
"HH&S are an essential support to our business, providing flexible and innovative solutions." Tina Callcutt, Director of Content Sales, National World