PressReader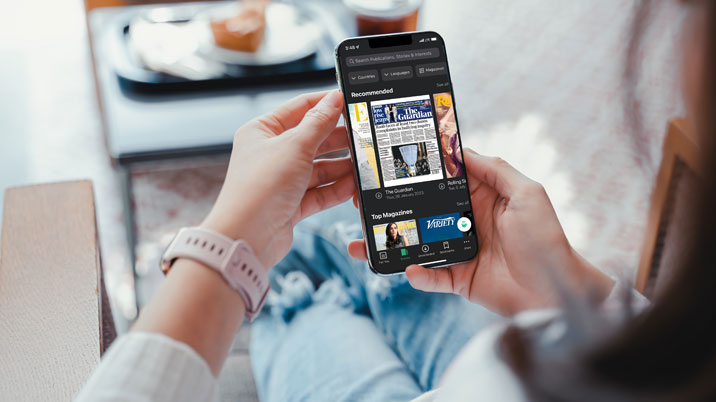 PressReader is a rapidly growing tech company that partners with the world's leading publishers, such as The Guardian, News Corp, Condé Nast, Hearst, Future Plc and Forbes, to deliver content to millions of users in over 160 countries. Our platform offers readers access to thousands of newspapers and magazines, making articles translatable, searchable and easy to read on multiple devices.
Sponsored access
Our extensive network of leading brands across multiple industries, including libraries, academia, hospitality, aviation, marine, and healthcare, offers sponsored access of PressReader to its customers. We work closely with our publishing and business partners to promote publications through this network, increasing discoverability of content worldwide. Meanwhile, our platform intelligently recommends content to users based on their language, preferences and location. What does this mean? More exposure for publishers in hard-to-reach places, increasing reach and revenue.
Innovated for publishers
Tailored compensation models: We pay for consumed copies, rather than 'time spent'
Acquire new subscribers: Convert PressReader users into direct subscribers
Data reporting: Receive access to monthly usage reports
Additional revenue streams through gifting and subscription programmes
Tech support: We offer 24 hours of dedicated support
Branded Editions, powered by PressReader
PressReader's Branded Editions platform provides the best reading experience, on any screen. Our award-winning technology lets publishers create custom digital editions, apps or kiosks, combining the most advanced print replica edition with complete online content offering. Help transition print subscribers to digital, offer print and digital subscriptions options or bundle multiple titles to drive increased revenue per user.
Our robust system allows for multiple authentication options, web service integration with leading subscription engines, payment processing in dozens of currencies, and full IAP support.
We partner with the world's leading publishers to create solutions for their readers, always putting the user first. They produce the very best content, and we help provide their readers with an innovative reading experience to consume it. Isn't your reader worth it?
The world's most iconic publishers use our innovative solutions for their privately labelled digital editions, bespoke apps, and web kiosks – brands like The New York Times, El Pais, The Washington Post, The Globe and Mail, The Guardian, The Times (of London), Arkansas Democrat-Gazette, ABC, Kiosko y más, and Clarin. Learn more about our award-winning technology here at: www.brandededitions.com