alfa Media Partner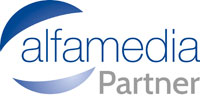 We work with alfa Media Partner GmbH delivering software solutions, news gathering and content management; including multi-media advertising booking and delivery systems, planning, ad production workflow and pre-press workflow – everything for multi-media publishing and the printing industry.
Integrated end-to-end concepts are the foundation of alfa Media software, providing maximum flexibility for existing and future publishing and distribution of all types of digital and print products.
Browser based application modules
Advertising systems, HTML5 ad design, content delivery, CRM and invoicing
Print and Digital Publishing
Digital and Print Asset Management systems
Web and Mobile device CMS
Consultancy Support
AdSuite Market, browser based advertising system, handles all commercial, production and technical processes for every type of order; print, digital, front counter merchandise, events and TV/radio spots. Full digital inventory and fulfilment with customer management, subscription management and invoicing are all included. With alfa WebStore, the focus for the user is on designing ads, business cards and flyers using Stylo HTML5 ad design with upselling built into the process.
Optimise the efficiency of sales processes through integrated CRM ensuring you have the tools for complete contact management, customer and order data, campaign planning and monitoring with integrated document management.
The automatic pagination tool, AutoPage, generates complete publications. Based on rules, the available items are automatically selected and wrapped. The page fills without manual intervention and is ready for output.
ContentLine, the editorial CMS system combined with Digital Asset Management (DAM), organises the storage and distribution of all assets from a central repository with optimal rights management using differentiated permission roles. Centralised storage of all digital content which are 100% media independent can be managed and archived efficiently. Content and its associated metadata and targeting information is sent in the appropriate channel, at the right time, with the least amount of effort. EditorialOrganiser is a smart editorial and content manager which allows you to publish content intuitively and is media channel specific. From anywhere, use simple procedures to upload multimedia content via ReporterApp, (documents, images, video and audio) then assign them to articles. Voice input of text (dependent upon the device), is also a possibility. redFACT web cms, with real-time interface to EditorialOrganiser and DAM takes care of your web presence with customisable and adaptive web pages.
PrintLayout, page layout software and workflow system with ProductPlanner and WebTracker, takes care of your print channels while SmartNews and ePaper deliver your content to web and mobile devices.