Gordon & Gotch Publishing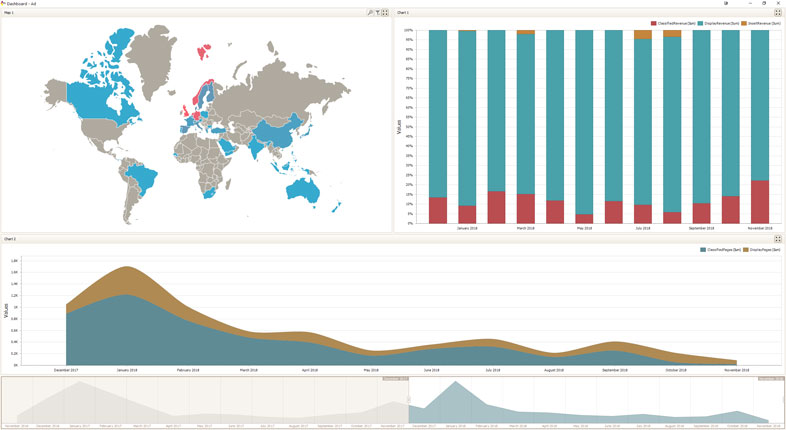 Gordon & Gotch Publishing Ltd have built a solid reputation with their modular Myriad product, which can suit publishers and membership organisations of all kinds. With modules covering Advertisement Space Booking, Book / Product Mail Order Sales, Controlled Circulation, Event Booking and Management (for both tickets / conference places and stands / pitches), Reader Enquiry Sales Leads, Subscriptions Processing and Marketing, Wholesale (Bulk Copies) Distribution, and Customer Self-service Web Interfacing, Myriad has been the chosen route of many publishers and bureaux over the last two decades.
CRM structure: Simple to complex relationships possible for all your different types of contacts providing an immediate view of sales across all modules, promotions and marketing by contact, related contacts or grouping. A sales order control process can define structured sales workflows linked to the internal Sales Ledger to track sales and help with full credit control
CRM features: Universal diary to record all contact communication with auto date / time scheduling functionality. Simple to multi-level or linked demographics for your own customisation
GDPR: covering SAR's, marketing rules, removing sensitive data and anonymising data facility
Advertising: Display, classified, freeform (word-count), web positions, web impressions and time-based. Order confirmations can be automated by email; optional sales order process; copy-chasing
Books / Products: Picking and packing routines; optional stock control; can be combined with subscriptions for promotions
Dashboards: Graphical representation of your data. A selection of typical dashboards provided in-built, with the ability for users to create personalised ones as required
Distribution: Standing orders, returns, combined invoice / credit notes; net sale reports
Events (tickets): Can be free, prepaid, or invoiced; conference extras, accommodation handled; optionally linked to subscription / circulation for discounts on purchase; creation of controlled circulation records for new contacts; foreign tax handling for overseas events; registration pick-up and conference stats reporting
Events (stands): Space-only, shell stands, and fixed pitches possible; extras (power, water, scanners, chairs, etc) can be booked and billed; split billing allowed
Subscription / circulation: ABC / BPA reporting; renewals / invoices / re-registrations sent out by email or print, online response possible; some rotational strategies available; products may be print / online / combined
Web integration: Full SOAP module available to allow contact entry or amendment; full booking across modules
Integrations: Multiple 3rd-party options for credit cards, direct debits, addressing, ledgers, email marketing, telesales and document management
Myriad can be customised for individual clients, allows user-defined report layouts, which combines to give the publisher, bureau, or professional organisation a comprehensive package that's tailored to match their requirements.