Jellyfish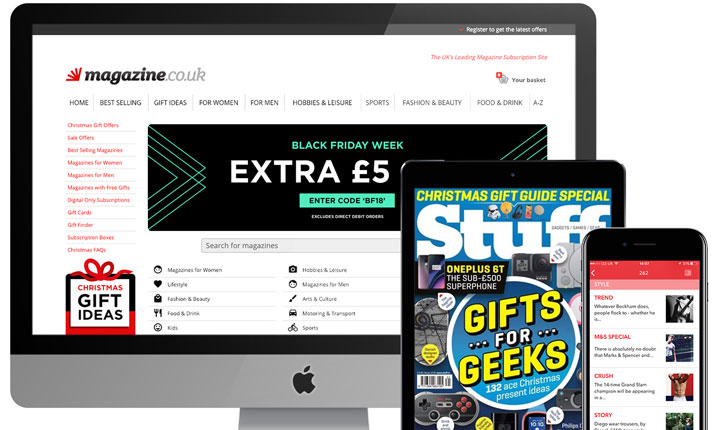 Jellyfish offer magazine and newspaper publishing clients the very best in subscription marketing and management with the additional benefit of having access to the wider global specialists such as; PPC, Programmatic Display, Social, SEO, Analytics, Conversion Rate Optimisation, ASO, UX, and Video, as well as the latest digital advertising solutions
In addition to traditional agency services, Jellyfish also run two of the UK's leading publishing e-commerce sites:
magazine.co.uk: print subscriptions
magazine.co.uk is the UK's #1 print magazine subscription website in the UK. Selling hundreds of consumer and professional magazines, it attracts millions of visitors looking for print magazine subscriptions.
There are no set-up or listing fees. You simply pay a fixed CPA for each new subscription generated. When taking on a new title, we can also run a PPC campaign for your brand. All media costs, plus our time to manage your search campaign, are included in the CPA.
Pocketmags: digital subscriptions
Pocketmags is the global digital newsstand selling single digital issues and digital subscriptions through its website and apps. It allows readers to buy once for access across multiple devices and platforms (Apple, Google, Amazon and web).
With an increasing range of marketing tools and services, Pocketmags also facilitates publishers setting up and running their own marketing promotions using special offers and pricing.
Pocketmags operates on a revenue share basis and can also run a PPC campaign for your digital magazine brand.
Cost-effective app and digital edition publishing
The MagazineCloner software enables publishers to create apps and digital editions from one simple upload, with no code required. Apps are mobile-friendly, presented in
article-by-article form, and are created via an automated process, making the software a cost-effective and time-saving option for the hundreds of publishers who use it.
The reporting platform is unique in providing ABC-accredited and BPA compliant data, consolidating sales information from Apple, Amazon, Google and Pocketmags, allowing subscription fulfilment reports to be run correctly and taking the hassle out of data collation and auditing processes. The platform also provides publishers with extensive data and analytics reports.