Readly UK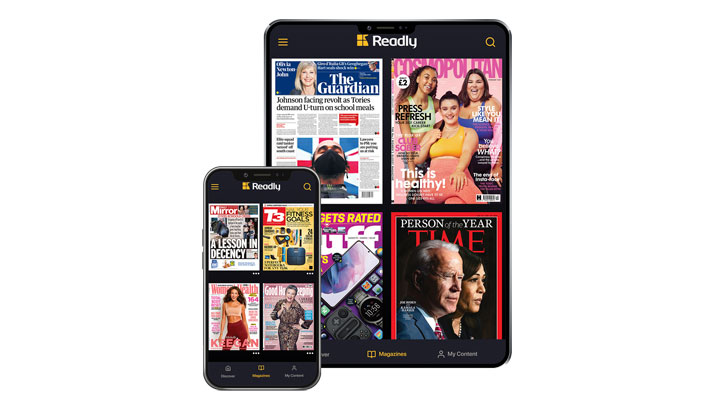 Readly is the European category leader in digital subscription services for magazines and newspapers providing "all-you-can-read" access to thousands of titles in one app. Founded in Sweden in 2012, Readly is today one of the fastest growing companies in Europe with users in 50 countries and content in 17 languages.
In September 2020, the company was listed on the Nasdaq Stockholm stock exchange and in November 2021, we completed our acquisition of Toutabo, the owner of French distribution platform, ePresse. In collaboration with 1,200 publishers worldwide, and including the full catalogue of ePresse, Readly has a portfolio of over 7,500 titles and approximately 210,000 issues.
Our offering includes household brands from over 30 different interest categories including Lifestyle, News, Health & Fitness, Food & Drink and Business & Finance. Our content comes from trusted publishing partners and our mission is to expand their global reach and boost their revenue, while delivering a high-quality reading experience for our subscribers.
The benefits for consumers
A Readly subscription of £9.99 a month gives subscribers unlimited access to an unbeatable range of magazines and newspapers so that they can be inspired, entertained and educated. The app has an average rating of 4.7 across Google Play and App Store which bears testament to our premium user experience and broad content portfolio. Popular features include Search, a curated article feed and the Discovery tab. We also have a growing portfolio of Readly Exclusives which add to the "all-you-can-read" model by providing additional content that is available exclusively on our platform.
The benefits for publishers
Through our partnership with publishers, we are able to provide:
Data & insights: Readly holds +40 billion reader-generated data points. Our publishers are able to get to know their audience on a granular level with unique, easy-to-access analytics. This opens up new opportunities for publishers to become increasingly data-driven, to optimise their magazine content and advertising, and to further develop their digital strategy.
Revenue: Publishers are paid based on the number of readers and on the dwell time of their content. We pay out over 50 percent of subscription revenue to publishers.
Global reach: Through our platform, publishers have the opportunity to increase their circulation numbers across 50+ international markets, with each issue read contributing to ABC and IVW figures.
An easy process: The uploading process couldn't be simpler. All we need from our publishers is a PDF file and publishing schedule and we'll do the rest - with no investment required.