Affino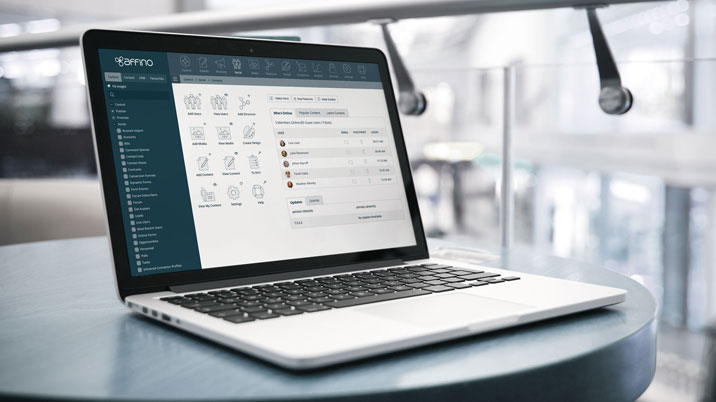 Unified Digital Business Platform
Affino delivers a complete digital front-end, encompassing CRM, CMS, DAM, Ecommerce, Messaging, Social, Sales & Marketing Automation and Analytics all in the same seamless solution. It also uniformly contains more specialist solutions for Recruitment, Education, Fundraising and Benchmarking. Affino in essence marshals all your company's key activities through a single centralised system. It frees up time and resources so you can concentrate on evolving and growing your digital business rather than just maintaining it, it also protects your content, media and ad-serving from adblockers and similar privacy tools.
Single Customer View
Affino's unified approach produces a seamless customer journey across all the different devices and touch-points. All key activities are delivered and run through Affino, which gives a unique overview of all your customers' activities, every contact, communication / interaction and every kind of purchase - all controlled through the same universal system and viewed in tandem on the same CRM Contacts and Analysis screens.
Sales & Marketing Automation
Affino's Automated Customer Ladder consists of 50 dynamic Conversion Events which can be triggered to react and respond to each and every customer activity - from content read to specific purchase, registration, download, communication, interaction and so much more. Each activity can accrue rewards and recognition for the customer - visible badges, points system, coupons and monetary credits, additional features and privileges. All are seamlessly connected with Affino's messaging engine and content subscriptions too - producing an automated customisable, stepped customer engagement program with incremental incentives and rewards.
Personalisation
At the heart of Affino's Personalisation are Taxonomy Topics and User Profile Preferences which start at Registration, but can be updated then at any stage, incentivised or otherwise. A user's preferences filter the content and features to exactly match a customer's own desires and inclinations - meaning a very personal customer journey on and off-screen - via personalised highlights and digests, newsletters, communications and alerts.
Realise Your Commercial Potential
Affino's promise to every customer is rationalised by its powerful and unified feature set. With its 50 Customer Ladder Conversion Events and 20 Commercial Engines, no other single system delivers as much monetisation capability. The fact that Affino contains so much power on-tap, and allows you to automate all of this for optimised customer journeys, is what makes it such a strong proposition, particularly for evolving new and improved revenue streams.