Papermule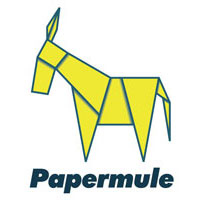 Enterprise Production Solution for Publishers
Papermule are the UK's leading Digital Asset Management provider specialising in the publishing industry. With over a century of combined experience Papermule have played a leading role in the streamlining of digital workflow solutions at many of the country's largest publishers.
Our products include:
Ad Management
AdDesk is our premium Ad Copy Management, Tracking, Chasing and Production suite. Incorporates extensive bi-directional integration facilities to many ad booking / planning and editorial platforms.
Enables instantaneous edition state reporting whilst automating many users tasks. Provides full asset management, reuse and reporting facilites.
Asset Management
Our Enterprise level DAM / Workflow Solution for managing, a variety of asset based storage, processing and distribution tasks needed by the modern publishing house.
Stores any digital asset indexed within a scalable database schema to meet the most demanding customer requirements.
Enables extensive integration and automation to be provisioned.
Planning
Mediaplanner is the most widely used planning took in the UK.
It is deployed at many of the leading newspaper and magazine publishers and offers exceptional editorial, display and classified planning capabilities.
Production
Asset delivery to the users desktop with extensive InDesign/InCopy plugins to enable web distributed collaborative workflows.
Preflight integration and print & proof variants with full version control and auditing facilities. Able to produce and distribute print and web variants while tracking all underlying content & processes.
Our customers include:
AdStream
Bauer
Dennis Publishing
DMG
Evening Standard
Fine Print
Independent News & Media
Metro
New Scientist
News UK
Paragon
Specle
Springer Nature
Telegraph Media Group
Weatherbys